A little group of us ladies in the interior design business were long overdue for a little pow-wow to catch up on life, swap stories of the business and basically eat cake. Seriously. Having all worked together at one point together at the same firm (Rebecca Bradley Interior Design), it is a known fact that this group kindof lives for cake. Some of us (ahem, me) might even go as far to skip the cake part and dive in straight towards the frosting.
Things are super busy right now for everyone so it was a small gathering (hopefully with bigger and more frequent gatherings to be had in the future) that got together. My lovely co-worker, Erin King (Erin King Interiors), co-hosted with me and together we whipped up a fun, bright and yummy little afternoon.
I always start off with a color theme in mind....typically one thing starts it off, then it just sort-of snowballs from there. The green bamboo tablecloth from Williams Sonoma kicked this par-tay off with the obvious greens and whites to come into play. I ALWAYS love a little sparkle and glitter and was excited to use my recently purchased faux-bamboo gold flatware (Etsy, do you love me? You should.).....and what is so chic with gold, silver, green and white....well, pink of course! A whirlwind trip to the SF Flower Mart to grab all the pretty petals to make the bouquets seen here...and there you have it....!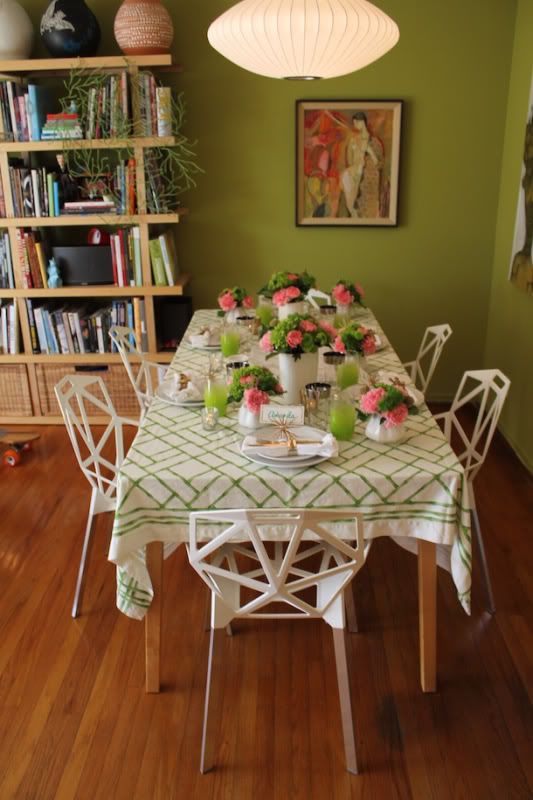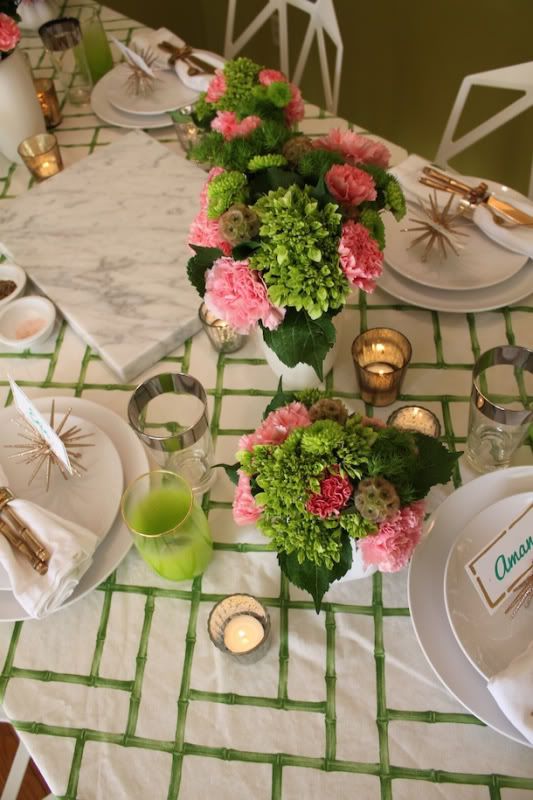 hand made placement cards by the uber talented Damian King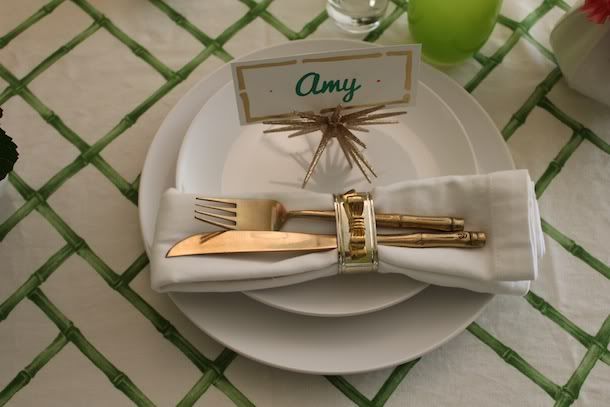 I always try to mix in vintage elements to help layer and cut the crispness of "all new". In this case vintage glasses (green Blendo glasses, silver rimmed Dorothy Thorpe), vintage napkin rings and the brass, parakeet tea towel and planter and the bamboo tray used on my credenza-turned-bar.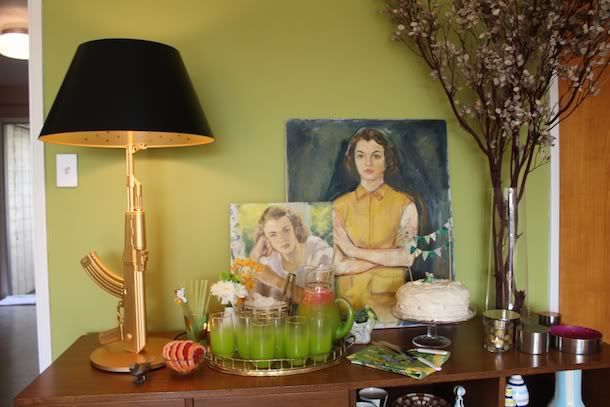 Our signature cocktail with a Prosecco Punch made with ruby red grapefruit juice and garnished with the same.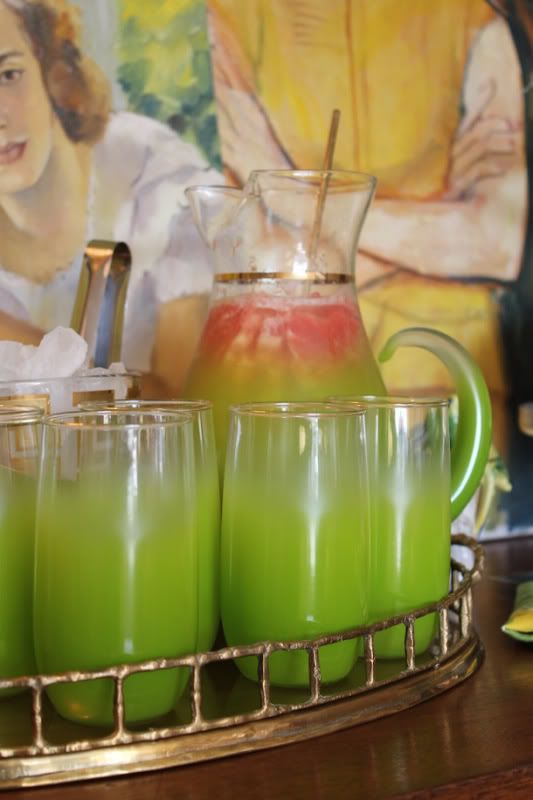 On the menu was a feast of all homemade goodness; butternut squash and wild mushroom bread pudding (made here last year at Thanksgiving), roasted fingerling potatoes with a creme fraiche (turkey) bacon and chive coating, fruit salad and mixed greens with pomegranate, chevre and pecans tossed in a fresh vinaigrette, and then of course a double red velvet cake with cream cheese frosting. Which I am going to have a sugar hangover from tomorrow. Because I just ate another piece. And I secretly want to eat another.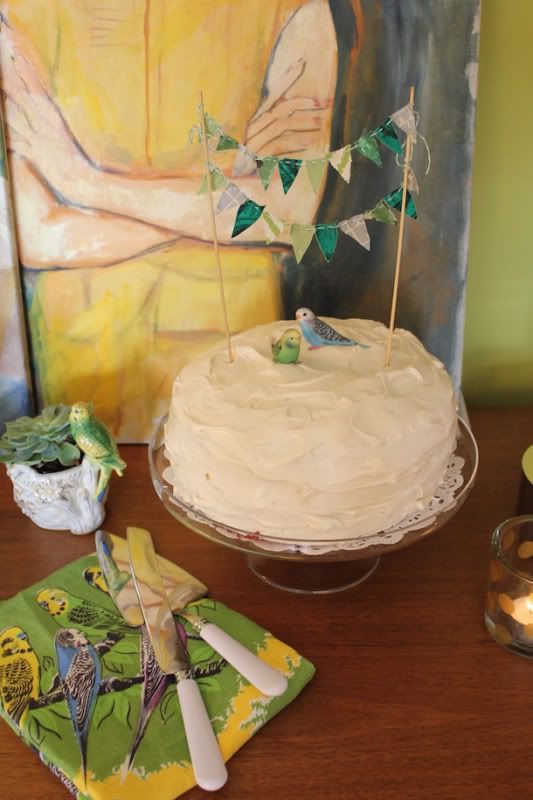 Erin made the adorable little fabric flag cake topper - she is also a pillow-making machine...you can check out her Etsy shop HERE.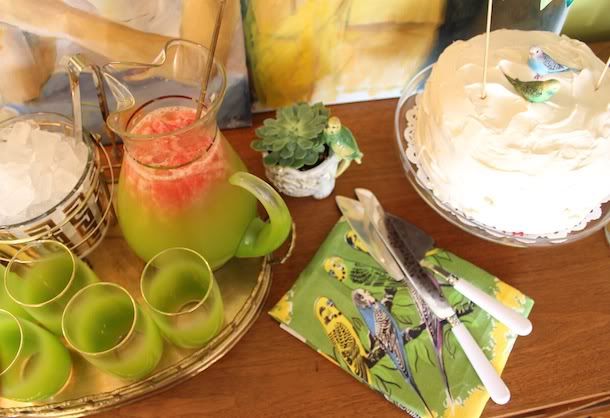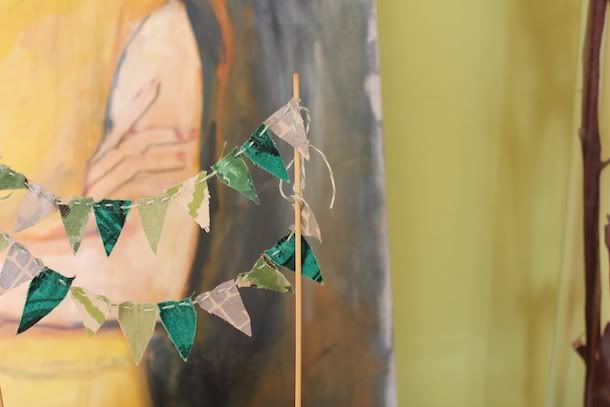 My cutie co-host Erin (L) and I (R) = funsies!!
All photos by janel holiday interior design.
Soundtrack for this girly event is a favorite lady crooner, Miss Ella Fitzgerald: