All the cool kids on the internet are going "gift list" blogs so I decided to cave in and whip one up myself, dear readers. I've tried to think of everyone on your list...let me know how I did!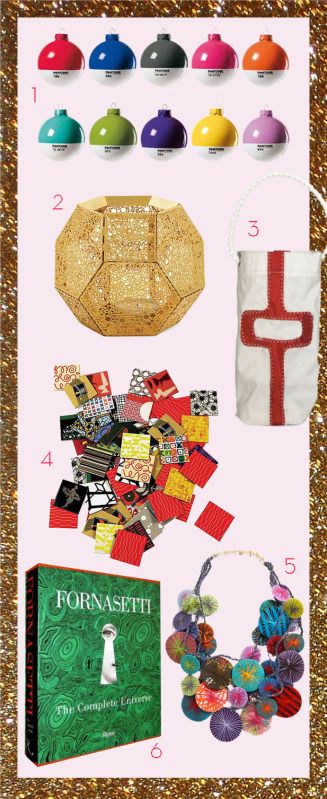 1. for the host/hostess...glass Pantone ornaments.
2. for the design loving spouse....a beautiful etched metal candleholder by Tom Dixon.
3. for the wine lover....a canvas Angela Adams wine tote made from recycled sails that have been around the world.
4. for the kiddos...Maharam memory game.
5. for that crafty, hippy aunt/mom/sister..."Diameters are a Girl's Best Friend" necklace.
6. for the book lover...The Complete Universe of Piero Fornasetti.
7. for the bachelor/brother/dad...George Nelson night desk clock.
8. for the boozer/bartender cousin/local bartender...brass bottle opener by Oji Masanori.
9. for the stylish sister/friend/main gay...powder coated steel "Kaleido Trays" by Clara von Zweigbergk.
10. for your friend who loves to entertain....Midas Glassware dipped in gold by Swedish design group, Front.
11. for your architect friend with kids....or no kids...Le Corbusier's Villa Savoye in LEGO format!
For this holiday posting I'm listening to the Ramsey Lewis Trio's Sound of Christmas....it's essentially 29 minutes of jazzy perfection that my girlfriend Kathy reminded of recently: