This whole Valentino studded and beautiful pieces thing has gotten a bit out of control....I am now coveting $600 pale gold studded, black leather and leopard gloves from the fashion power house......I mean, they are glamourous and chic and oh-so-delicious, but I can't wrap my head around the pretty price tag when they are sure to get a bit of Motul on them in the first 5 minutes.....BUT a girl can dream right?! And with that dream comes my other (and by "other" I mean one of a gazillion things on my list) big ticket dealio....a cherry red Vespa (no, Lambretta....no, Vespa.....hmmm...). Like...BRIGHT cherry red.....with a houndstooth seat? Yes. So here are all my things whirling around my head in relation to those two fabulous things mentioned above...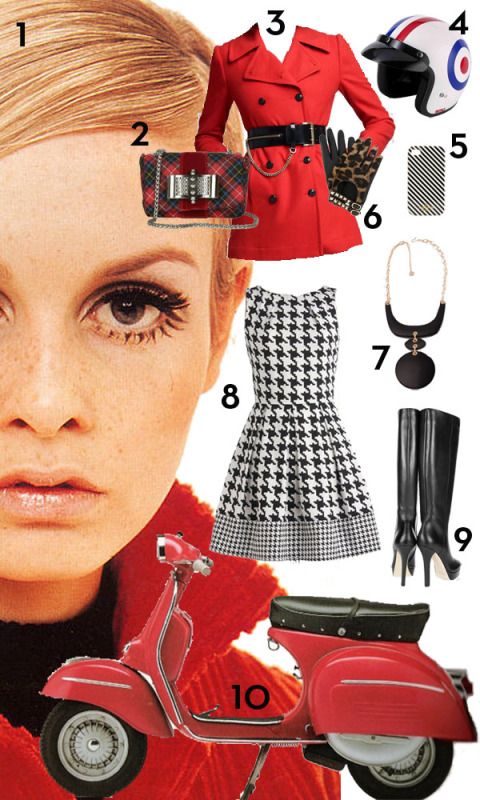 1. False eyelashes.....ala Twiggy circa 1960.
2. An over the shoulder bag....like this sick little velvet plaid and studded bow gem.
3. "But, honey, this jacket IS reasonable. The bright red color is for SAFETY...!"...belted wool coat by McQ Alexander McQueen.
4. Hello, helmet. Protect your noggin.
5. Hopefully you won't need any road side service, but if you do you can rest easy knowing you and your smart phone look cute while doing so.
6. There are those gloves I was talking about.....chic, no?!
7. Resin "Modernity" necklace by one of favorite gals - Trina Turk.
8. The perfect houndstooth dress by ModCloth.
9. Go big or go home? I don't know about that, but I do know these boots are AMAZING.
10. A sweet Vespa SS180.
Soundtrack features the original Beat girl....the English Beat...!