I hope you all had a nice extended weekend....Memorial Day typically marks the beginning of Summer and if you happened to be in San Francisco yesterday like I was, well that may have been a bit hard to imagine as the RAIN (wth?!) was coming down....it was a chilly and gloomy Monday....perhaps more suitable for what Memorial Day really represents?
Being the warm weather and sun lovin' girl I am from Southern California I spent some of the day yesterday indoors away from the chill and rounded up a few favorites I would sport on my beach blanket in a hot minute - how about you? What are your beach essentials?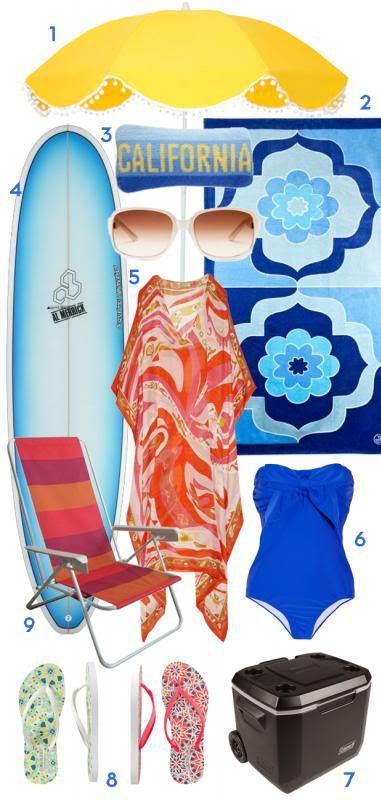 4. the "
waterhog
" mini-longboard by Channel Islands/Al Merrick is the perfect board for "once in awhile" surfers like me....and you can order it "
ecoboard
"....sustainable surfing!.
5. a silk kaftan is SO not practical, I know....but I couldn't resist the sunset colors in this one by
Emilio Pucci
.
6. bow embellished bandeau
swimsuit
by Miu Miu
7. practical design by Coleman -
this cooler
rolls, has cup holders, can be used for an extra seat and can hold bottles upright.....!
8. seeing as footwear tends to take a beating at the beach, these
Old Navy flip flops
are both colorful + fun and at $5 a pair you won't have a meltdown if they get thrashed!
9. foldable
beach chair
from Target - bonus, it's rust resistant!
warm weather calls for reggae (heck, any weather calls for reggae) and this has always been a standard at my beach growing up (
Mesa Lane
):