There are three sounds that are pretty much my top three sounds ever:
the sound of the Pacific Ocean

Nat King Cole's honey voice

the chatter of Zebra finches

and not on the list, but just an obvi is the sound of my friends and families voices....and my girlfriend Sheryl's laugh - it is basically the best laugh EVER.
You remember that I am a bit nuts for birds right?! As evidenced here. I know a lot of it stems from growing up around my grandparent's aviaries. They built a large aviary around the window of their Guest Bedroom (always known as "The TV Room" to us) that housed the little feisty Zebra finches and their muffled, soft calling is one that I just love. It's such a romantic, dusty sound...making me think of filtered Fall light, cups of earl gray tea, a game of bridge, Kitchen prep.....is that weird?
So I am semi-intent on having a little pair of these fine feathered friends, but I do grapple with the idea of confining them to a small space. Winged beings should be able to fly, right? So instead I do what I do best when something is out of my reach....I fantasize and design and scheme up of what would be the ideal way to house these tiny musical masters. Case in point, the following fabulous vintage bird cages!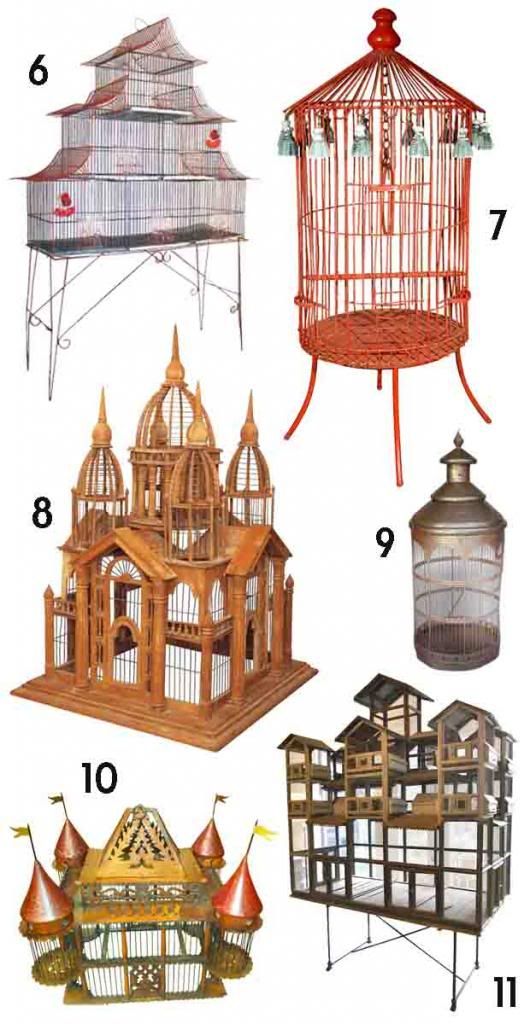 1. Metal cathedral bird cage, 20th Century
2. French chateau bird cage, 19th Century
3. Chinese pagoda bird cage
4. Art deco bird cage, circa 1930
5. Hand made wooden painted fretwork bird cage, France 1850
6. Pagoda shaped bird house, 20th Century
7. If i was a bird house I would hope to look like this beauty by Tony Duquette - perfection. Circa 1950.
8. Domed bird cage, 20th Century
9. 19th Century metal bird cage from Guatemala
10. 19th Century Victorian mahogany bird cage
11. Italian bird house, circa 1900-1920
Soundtrack for this fancy flight is Sarah Vaughan's "Lullaby of Birdland":