It's quite often that my frantic mind fixates on something (usually interior or fashion related) and becomes a little, well, obsessed with said object. It has happened with the beautiful, black studded Valentino bag I spotted a few months back. I can't get it out of my head. It is the perfect combination of construction, chicness and function. The topper is the studded detailing - reeling it back in from being too "normal" for this girl. I love a studded piece. Here are a few I would gladly welcome into my life....including that delicious Valentino bag that someone should probably get me for my birthday.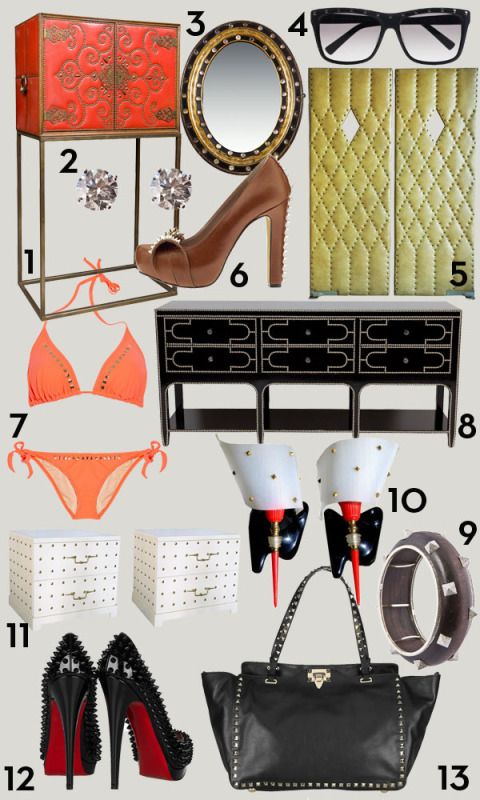 1. Studded Leather Bar (with a mirrored interior - swoon!!).....Belgium 1940.
2. Classic Tiffany Studs.
3. Galway Wall Mirror.....Ireland, 1980.
4. D Frame Studded Glasses by Valentino.
5. Vinyl and Studded Doors....1950s.
6. Vince Camuto "Jamma" Pumps
7. Eda Studded Bikini
8. Harpaz Studded Buffet by Erinn V. Maison.
9. Fruitwood and Diamond Studded Bangle.
10. French Bakelite Wall Sconces.....1940s.
11. Pair of Studded Bedside Dressers by Tommi Parzinger....USA 1950s.
12. Alti-140 Spiked Leather Pumps by Louboutin....dude.
13. The Bag.
Soundtrack is one of my favorite punky and studded bands - Operation Ivy - of course!