There are musicians and there are musicians of an epic scale....Bill "Tappy" Tapia falls into the latter category. Mr. Tapai passed away last week at the age of 103 leaving behind an enormous career that spanned decades of him teaching, playing his music and affecting thousands of people...sharing the stage with many of the greats and shedding light on the sweet ukulele. Take a minute to appreciate his music - I promise you will not go untouched.
Rest in peace, Bill Tapia - I am so fortunate I got to see you play and shake your hand.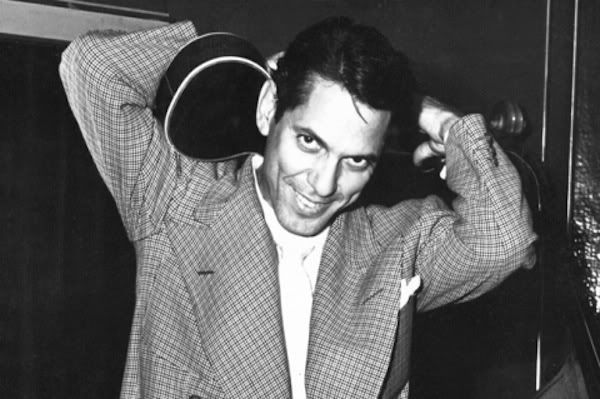 in oakland, 1955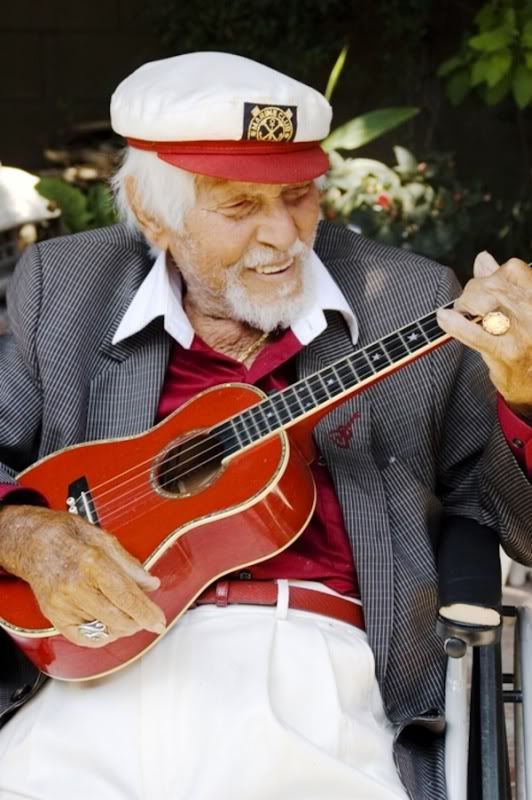 July, 2011...Bill is 103 here.
From Bill Tapia's website:
Widely believed to be the oldest performing musician ever to take the stage, jazz ukulele legend Bill Tapia is dead. He passed away peacefully in his sleep at home in Westminster, California on December 2nd at the age of 103. With a career that spanned over 90 years, he was the last living link to the earliest days of both jazz and the ukulele as a popular instrument.
Born New Years Day 1908 in Honolulu, Tapia got his first instrument at the age of 7 from Manuel Nunes, one of the first and most respected ukulele makers in Hawai'i. He started his career entertaining World War I troops at USO shows in 1918. After seeing John Philip Sousa's band perform, he came up with a unique version of Stars and Stripes Forever that was later copied by numerous Hawaiian musicians. From that point on, he never stopped performing and
sharing his love of music, infectious wit and charming personality with one and all.


After switching from ukulele to banjo and guitar in order to get more work, Bill spent his early career bouncing back and forth from Hawai'i to the West Coast playing on steamships. He performed as a backup musician with such luminaries as Bing Crosby, Billie Holiday, Fats Waller and Louis Armstrong, as well as everyone who was anyone in the early Hawaiian music scene. He played with Johnny Noble's band at the opening of the iconic Royal Hawaiian Hotel in 1927, returning to perform at the hotel's reopening in 2009. For a time he was employed as a "musical driver", serving as a tour guide and teaching a few ukulele chords to Hollywood stars including Clark Gable and Shirley Temple during the instrument's first national craze. Tapia spent World War II in Honolulu leading a 14 piece band in "blackout ballrooms", with all the
lights out to avoid possible detection by Japanese bombers.


After the war, Bill relocated to the San Francisco area, continuing to tour for several years with swing bands such as Charlie Barnet's group. Tiring of life on the road, he settled down with wife Barbie and daughter Cleo, playing in TV orchestras, as a sideman with local bands, and teaching guitar. An entire generation of Bay Area guitarists have fond memories of learning their first licks from "Tappy" at Campagna Music in Lafayette, where he worked for several decades.


Around the turn of the last century, Bill lost both his wife and daughter and relocated to Orange County to be closer to relatives. Soon after, he was rediscovered and embarked on perhaps the unlikeliest career comeback in music history. Returning to his ukulele roots, he released his first CD "Tropical Swing" in 2004 at the age of 96, featuring jazz and Hawaiian standards. The title track was a 1936 recording on Okeh Records, his only previous release. Riding the wave of a new ukulele resurgence, Bill was soon in demand at clubs and festivals up and down the West Coast, Hawai'i, New York and even Japan. He followed up Tropical Swing with Duke of Uke (2005) and Livin' It LIve (2009), showcasing his amazing live show. All three of these CDs made the national jazz charts and received airplay on hundreds of radio stations nationwide. Earlier this year, Live at the Warner Grand was released, documenting his 100th birthday
concert. Slowed but not stopped by a broken hip, Tapia continued to tour until late in 2010.


Bill Tapia was inducted into the Ukulele Hall of Fame in 2004, and received a Lifetime Achievement Award from the Hawaiian Academy of Recording Arts in 2011. He was perhaps the most beloved and revered figure in the ukulele world, and everyone who ever knew him or saw him perform will be forever inspired. Funeral arrangements are pending.