the first Sunday of the month in Alameda finds TONS of people pouring into the
Alameda Point Antiques Fair
. it basically has hundreds of vendors with the most amazing backdrop of the San Francisco skyline and the Port of Oakland with all of its shipping containers stacked like colored legos being loaded and unloaded by giant mechanical claws. Very dramatic, I know.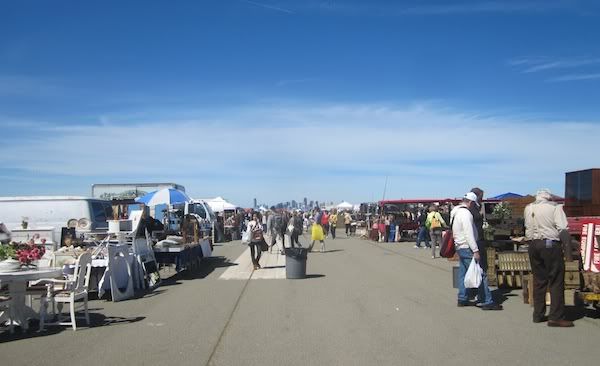 would love to drop this pair over a great mid-century table
This April's fair I met a friend later in the day and spent the first few hours just slowly poking up and down the dozens of rows and unknowingly getting quite an unattractive sunburn. Note to self: ALWAYS wear sunscreen here....foggy, cold, windy - doesn't matter.
There were two pieces in general I kind-of went ape over. This sculpture by
William Bowie
:
I may go in May just to stalk this piece and if it is still there it may come to live with me.
And the piece des resistance was this teak and ceramic tiled table that
Edith Heath
herself made for her Living Room.
so much more fabulous in person and I wish I took better photos. It was still unsold at the end of the day.
My girlfriend - the ultra-fab Stephanie of The Pineapple Princess - scored on these totally cute tiki lamps for PP headquarters.....I think she was stopped, oh, 50+ times after purchasing these and carrying them around. People were freaking for them/her....!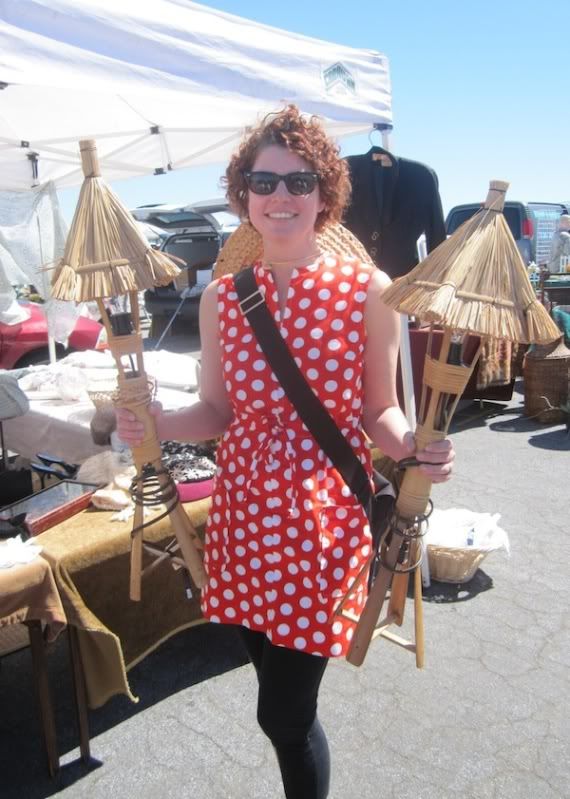 Here is my suggestions of what to bring if you're planning on hitting up the APAF:
- water
- sunscreen
- a big sun hat
- one of those little metal, basket thingies on wheels
- your charged smart phone to research art and antiques as needed
- measurements of pieces you're actively searching for
- a measuring tape
- camera
- and finally....cold hard cash.
And if you stay until 3pm then hit up Forbidden Island for a delicious Mai Tai while you bask in the post-glow of buying all the stuff you probably really don't need. Like an oil-painting of a dog named Max....which looks slightly amazing on my art wall (I think):
Soundtrack for this fun field trip:
The Slackers.....just because that was what I happened to be listening to that day, of course!